Audi A5 Suspension Issue
While Audi's are fantastic vehicles that are renowned for their reliability, quality, and performance, they still suffer from the odd problem now and then. 
Imagine jumping in your Audi and hearing a worrying creaking noise when you're driving uphill. It wouldn't be the best sound to hear, would it?
Unfortunately for a recent client, this is what happened to their Audi A5. 
Our client was on their way to work and could hear an unsettling noise coming from what they suspected was the suspension. So they decided to bring their vehicle to RS Autotechnik for a thorough inspection and to solve the problem before it got any worse.
It was a good choice if you ask us; some vehicle owners would ignore the problem for a while, and in our experience, this almost always ends in more expensive repairs. Which is the last thing you need. 
Luckily, our Audi specialists had encountered similar problems and were confident they could solve the Audi A5 issue.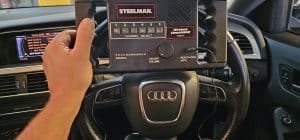 What We Found
During the initial inspection, our Audi expert had a thorough look around all of the vehicle's suspension components, checking for any visual indications as to what was causing the creaking noise. 
Unfortunately, it wasn't that simple, and nothing could be seen. 
Our specialist took the A5 out for an extensive road test to gain first-hand experience of the problem and to confirm the issue that had been suggested. 
At RS Autotechnik, we never "replace and hope"; we always aim to solve the problem during the first fix, which is something many other garages and dealerships aren't able to do. 
During the road test, our expert suspected the creaking noise was coming from the offside front suspension. However, further testing would be required to accurately identify the exact suspension arm causing the Audi A5 problem. 
The Diagnosis
Before any further inspections took place, our Audi experts used the Audi A5 manufacturer information to take a closer look at the vehicle's suspension system. 
As your local Audi specialists, we can access the same technical information as the main Audi dealerships. This allows us to provide you with dealership-level servicing and repairs for better value. 
Along with the Audi technical information, our experts use a 15-step diagnostic process, which allows us to systematically identify the root cause of any issues your vehicle may have. 
Now that our Audi expert had a better understanding of the vehicle's problem, they decided the best course of action would be to use a Steelman wireless chassis ear to identify the suspension's fault.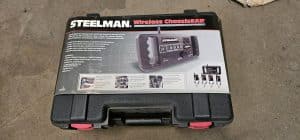 But what is a Steelman wireless chassis ear? 
Simply put, it's a diagnostic device that identifies any squeaks, creaks, and other noises coming from your vehicle. It's a pretty handy tool to have, in our opinion and is often a step other garages might skip in order to get a "quick fix".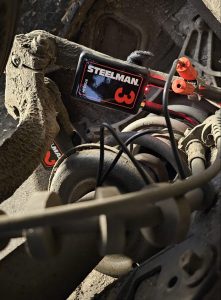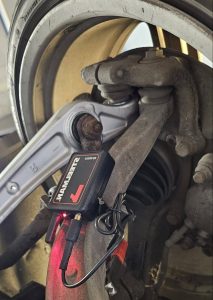 Each of the vehicle's suspension arms was tested using the wireless chassis ear. 
Using these results, our Audi specialists discovered that it was the Audi A5's lower rear arm ball joint creating the creaking noises.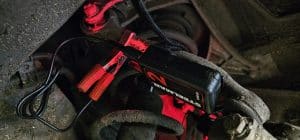 Fixing The Audi A5
Once our Audi experts had accurately diagnosed the issue with the A5, they called the client to discuss the issue and our recommendations. 
At RS Autotechnik, you're always kept in the loop with everything we do. We will only begin working on your vehicle once you say so. 
Once our client agreed to the recommended work, we sourced a genuine Audi suspension arm ball joint. 
As your local independent Audi specialist, we only use genuine Audi or high-quality alternative parts on your vehicle. You always get the quality needed to keep your vehicle running in peak condition. 
After installing the ball joint, our Audit experts performed a wheel alignment to ensure the suspension and wheels were working exactly as they should. The A5 was then put through an extensive road test to ensure it was ready to be handed back to the owner.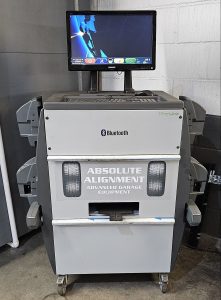 When we called our client to tell them their vehicle was ready, they were over the moon. Not only had the Audi A5 suspension issue been solved during the first fix, but the work was completed far quicker than they had anticipated. 
As we're an independent Audi specialist, our lead times are generally quicker than the main Audi dealerships, so you'll always have your vehicle back in a timely fashion. 
What else could you ask for?
Summary
A recent client's Audi A5 had been suffering from a suspected suspension issue, causing the vehicle to make an unsettling creaking noise while driving. Fearing the problem would worsen, our client brought their car to our specialists at RS Autotechnik. 
Using our 15-step diagnostic process and extensive experience, our Audi technician identified a problem with the suspension arm ball joint. 
We swiftly sourced a genuine Audi replacement and had the A5 running like new as soon as possible. Once replaced, there was no more creaking, and we felt confident that we could hand the Audi A5 back to the owner in top working condition. 
Our client was pleased to have their A5 back with full working suspension, and they were even happier when they received the bill – which was lower than the quotations from the main Audi dealerships. 
Our client left our garage creak-free and with a smile! 
Is your Audi suffering from a suspension problem? If so, don't wait for it to worsen. Call RS Autotechnik today for a quality first-time fix.